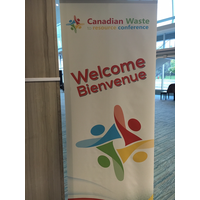 The 2017 Canadian Waste to Resource Conference (CWRC), a two-day event that showcased over 25 workshop sessions, influential speakers, invaluable networking opportunities, poster presentations and more, took place on October 25-26 at the Scotiabank Convention Centre in Niagara Falls, Ontario.
Having just wrapped up its eighth year, the CWRC continues to be a must-attend event for waste management and waste managers in the public and private sectors across Canada and internationally.
Those who attended the conference received free entrance (with registration) into the 2017 Waste & Recycling Expo Canada (CWRE), also held at the Scotiabank Convention Centre.
"With nearly 300 industry experts, distinguished speakers, special guests and industry members on-hand every year, the CWRC is widely regarded across the country and beyond as an essential event for waste management professionals," said Michele Goulding, Conference Manager and Ontario Waste Management Association (OWMA) Director of Finance and Member Services. "By working with the CWRE, we were able to deliver a truly world-class experience that enabled participants to receive the latest industry insights, hear exciting new developments, network with colleagues, and make important business connections."
For more coverage from the CWRC and CWRE, visit:
Twitter: www.twitter.com/OWMA1
Instagram: www.instagram.com/the_owma/
---