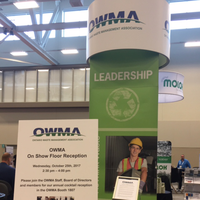 Waste & Recycling Expo Canada (CWRE), which is celebrating its 20th anniversary, and attracts more than 3,000 attendees and 300 exhibitors from across Canada, the United States and abroad, got off to a great start on October 25, Day 1 of the two-day event.
CWRE is the country's premier event for waste & recycling professionals representing these sectors: Collection, hauling, disposal service companies; construction / demolition companies; consultants / engineers; facility / site operators; ICI (industrial, commercial and institutional); landfill operators; manufacturers with waste streams; property managers; recycling coordinators; transportation / fleet managers and maintenance personnel; waste managers; federal, provincial and municipal government employees responsible for waste management and public works; airport managers; road supervisors; lawyers related to the sectors; industry publishers and industry associations.
"The CWRE continues to be a key event for everyone involved in the industry," said Michele Goulding, Conference Manager and Ontario Waste Management Association (OWMA) Director of Finance and Member Services.
For more coverage of CWRE 2017, including photos, visit these links:
www.facebook.com/ontario.wastemanagement
---