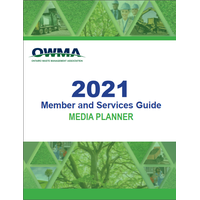 Annual Member & Services Guide
Top FIVE reasons to advertise in the 2021 OWMA Member and Services Guide:
One of a Kind: It is the only publication of its kind for sourcing waste and recycling sector businesses and organizations in Ontario.
Value: OWMA's digital issue is searchable, shareable and includes live links to all web addresses, URLs and email addresses within the publication – readers will be able to access your information directly from the digital version on their mobile device or desktop computer.
Reach: The Guide is mailed to roughly 750 waste and recycling professionals and organizations in Ontario; shared online with approximately 10,000 annual OWMA website visitors and over 5,000 social media followers (per post) interested in waste and recycling.
Cost-Effective: 365 days of advertising exposure starting as low as $519.50 for a 1/8 page placement.
Easy to Find and Access: A link to the OWMA Member & Services Guide is included in all OWMA e-newsletters, OWMA social media feeds and highlighted on the OWMA.org homepage throughout 2020!
Space available includes full, half, quarter and eighth page sizes available, please contact Justine Stewart jstewart@owma.org (T:905.791.9500) to book your placement submit your ad artwork before the final deadline of January 15, 2021.
We look forward to working with you!
---