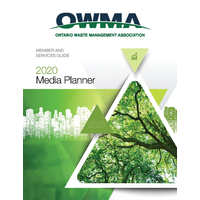 Advertising in the 2020 Member & Services Guide
OWMA members are automatically included in OWMA's annual member and services guide!
Top 5 reasons to advertise in the 2020 OWMA Member and Services Guide:
One of a Kind: It is the only publication of its kind for sourcing waste and recycling sector businesses and organizations in Ontario.
OWMA Members are eligible for a 10% discount.
Value and reach: OWMA's new and improved digital issue will be searchable, shareable and includes live links to all web addresses, urls and email addresses within the publication – readers will be able to access your information directly from the digital version on their mobile device or desktop computer.
Cost-Effective: 365 days of advertising starting as low as $299.50
Easy to Find and Access: A link to the Member Guide will be included in all bi-weekly OWMA e-newsletters, throughout the year on OWMA social media feeds and highlighted on the OWMA.org homepage throughout 2020.
Regular and premium ad sizes are still available, please contact Melissa Carlaw at mcarlaw@owma.org, OWMA Manager of Marketing and Communications to book your placement before the final deadline of January 13, 2020.
---