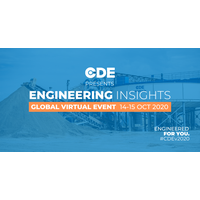 Across the two days, CDE experts, together with a host of guests and industry figures, will facilitate a series of dynamic, educational and informative presentations and panel discussions covering multiple sectors, including sand and aggregates, construction and demolition waste recycling, industrial sands, mining, and wastewater. The company believes this shared approach is a better way to aid the progression of the industry.
Hosted live, the discussions will be facilitated across multiple different rooms and stages, each aligned to international time zones with some dedicated languages seminars for greater accessibility.
Interactive Q&As will conclude each session and breakaway networking chat rooms will offer attendees with the opportunity to discuss the insights and connect with leading industry experts.
Exploring the topic of construction, demolition and excavation (CD&E) waste recycling, CDE's Head of Business Development for Reco, Eunan Kelly, will lead discussions about the role of CD&E waste material in the sustainable city agenda, as well as a technical review of the CD&E waste recycling process, an appraisal of the end-use markets, and a review of legislation for the use of CD&E recycled materials.
The programme also includes panel discussions and presentations focusing on municipal wastewater management, challenges to wastewater solids separation, and the pressures on infrastructure due to growing urbanisation.
---