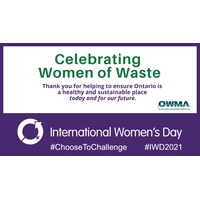 By:
Paulina Leung, Chief Sustainability Officer, Emterra Group and OWMA Board Director
Today is International Women's Day (IWD), which provides a great opportunity to recognize and celebrate the outstanding efforts of women across the recycling and waste management sector. Each day in roles across the industry, women are making a positive and essential contribution in their daily jobs. Through their professional impact, dedication, and commitment, they are making Ontario safer, more innovative, and more sustainable.
We are all proud to work in the recycling and waste management industry, but we also know that as a group, we must do more to activate opportunities and connections for women in waste.
As we celebrate #IWD2021, OWMA is pleased to share insights on some of the activities and progress we are making to further recognize, engage, and activate women in waste.
OWMA has launched a new Women of Waste Sub Committee. This Sub Committee's mission is to develop and support initiatives empowering strong female participation and engagement in the waste management and recycling industry.

Recently, OWMA hosted a Women of Waste Panel during this year's Year Ahead Virtual Conference and Annual Meeting. Attendees had the opportunity to hear first-hand from some of Ontario's most recognized Women of Waste. Each of the panelists shared their own personal insight on the path they have taken to get to their current career point. Their inspiring perspective helped to shed light on the possibilities that exist through passion and perseverance in the waste sector.

OWMA also welcomed our second woman Chair of the Board - Nicole Willett. Effective March 4, 2021, Nicole will commence her two-year term as Chair and will guide OWMA's strategic mission to provide value-added advocacy, information and research services to its members, and enhance Ontario's prosperity by promoting economically competitive and environmentally sustainable waste management solutions and public policies.
As a woman working in this sector, I recognize that we all have a responsibility to open up this important conversation and take positive strides forward.
Today, I encourage you to become involved in the conversation and make your voice heard.
Take a moment to celebrate your colleagues in the recycling and waste management sector and thank them for the contributions they make each and every day in helping to ensure Ontario is a healthy and sustainable place today and for our future.
---