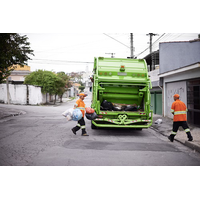 Ontario's Waste Sector plays a huge role in generating gross domestic product and creating jobs across Ontario. A study completed by the Conference Board of Canada found that, in 2018, Ontario's Waste Sector directly employed over 17,000 individuals. It also produced more than $2.79 billion in GDP, as well as $570 million in tax revenues.
However, this only captures a part of the economic benefits created by the waste management sector. The sector also indirectly supported an additional $815 million billion to Ontario's GDP, and supported over 9000 jobs in other sectors. The total economic impact of the waste management sector contributed $4.23 billion to Ontario's GDP, and contributed an additional $384 million to GDP outside the province.
"When people think of the waste sector industry, they mainly think of disposal and collection jobs," said Mike Chopowick, CEO of OWMA. "But there are also well-paying waste sector jobs across Ontario in diverse fields such as business development, engineering, finance and marketing to name a few."
For every $100 in GDP directly supported by waste management sector, a total of $44 in government revenues are generated in the economy. Chopowick continued, "A strong waste management sector means hundreds of millions in taxes help support vital public services for Ontarians".
The full report, "The Economic Impact of Ontario's Waste Management Sector", is available for download at: www.owma.org/articles/category/publications.
Quick Facts
Ontario's waste sector directly employs 17,393 workers and generates $2.79 billion in gross domestic product (GDP) and $570 million in tax revenues

In 2019, 1,829 waste management businesses operated in Ontario

43% of the sector's employees work in waste collection, 31% work in waste treatment and disposal, and 25% work in remediation and other waste management services

At $27.64 as the average hourly wage, Ontario's waste management sector pays nearly 8% higher than the provincial average wage

95% of all workers in the sector are full time employees
For more information, please contact info@owma.org, attention Mike Chopowick, CEO
---