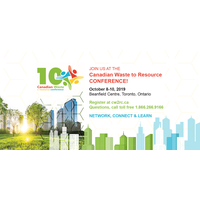 The 10th annual Canadian Waste to Resource Conference (CWRC) is just over a month away (Oct. 8 – 10, 2019) and we're excited to share a sampling of the continuing education program we've developed this year!
Read Conference Preview
Register online here
If you'd like to become a 2019 sponsor, please visit sponsorship opportunities, email, or call 905.791.9500 for more information.
Tuesday, October 8
Get a bird's eye view and tour local waste facilities like Veolia North America, one of the largest commercial recyclers of lamps in the world! Tuesday's tours are followed by the Welcome Gala Reception at the Mill Street Brewery in downtown Toronto. Co-hosted by OWMA and CWRE.
Wednesday, October 9
The conference kicks off with an industry leader panel discussion on the future of waste management in Ontario. Join Dave Richmond, Executive Vice-President, GFL Environmental Inc., Mike Watt, Executive Vice President, Walker Environmental, Matt Keliher, General Manager, Solid Waste Management Services, City of Toronto and Albert Shamess, Director of Waste Management and Resource Recovery, City of Vancouver for an informative and inspiring session!
Later that morning we'll investigate how new technologies will benefit recycling programs and examine the Netherlands success in building and managing the circular economy.
Attendees are invited for lunch with keynote speaker Frank Denton, CEO, Resource Recovery & Productivity Authority (RPRA) as he discusses supporting the Ontario Blue Box Program transition to an individual producer responsibility model.
Our afternoon Organic Waste Diversion sessions will feature in depth discussions on composting, anaerobic digestion and landfill with gas utilization, compostable packaging, organics recovery and food and organic waste disposal bans.
The Programs and Infrastructure tracks include the remediation of historic waste disposal sites for future development under the RSC process, a case study of Durham Regions mixed waste processing/anaerobic digestion facility and an evaluation of the City of Toronto's transfer station network capacity.
Wednesday continues with a deep dive into Recycling issues, including the challenges and opportunities in plastics, recycling industry mega trends and opportunities, reducing material contamination for end markets, investing in Infrastructure, technology and processes and the commercialization of chemical recycling.
Attendees are then invited to attend the CWRE tradeshow for complimentary refreshments during the "Revolving Reception"!
Thursday, October 10
We begin with an analysis of extended producer responsibility (EPR), followed by our Organics and Packaging and Printing Paper tracks, including; mixed waste processing in Ontario, municipal planning for the waste sector, waste diversion, resource recovery policy and managing the front end of the diversion system.
We've also included sessions on leveraging marketing to educate the public about waste management, the potential role of artificial intelligence in curbside collection and the viability of deposit return systems.
The 2019 CWRC wraps up with a special keynote address from Jeff Yurek, Minister of the Environment, Conservation and Parks where he will outline Ontario's Environment Plan to reduce litter and waste in Ontario communities.
Please register and book your hotel today.
Plus! Help us build a world class solid waste research program and support students in Canada by donating to the EREF-CA Silent Auction! A silent auction will be held at the CWRE tradeshow that provides funding for these research projects in Canada. Learn more about the silent auction and donations!
---