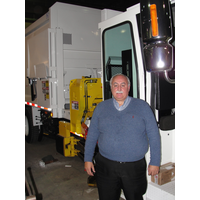 By: Chris Lomon
As a standout high school and university athlete, David Tanner saw first-hand what went into building successful teams. As president and co-owner of Shu-Pak Equipment Inc., he's seeing the same very thing.
Growing up in Mississauga, Ontario, specifically, the community of Lorne Park, Tanner excelled as an all-around athlete, earning awards and accolades for his contributions in badminton, wrestling, track & field and football.
Tanner was a dual threat on the gridiron during his high school years, playing running back and linebacker. He was also selected to the City of Toronto's all-star team.
His sporting talents carried through to his days at the University of Toronto, where he was a member of the Varsity wrestling team while earning a Bachelor of Science undergrad degree and an MBA.
"I attended Appleby College for pre-high school, and went on to Lorne Park Secondary School for high school," recalled Tanner. "I really enjoyed athletics during my high school days. I was named athlete of the year for my graduating class and went on to the provincial championships in three different sports – wrestling, badminton and track. I was also the captain of the football team."
Football, however, wasn't his strongest sport.
"I probably had the most success at wrestling," he said. "In those days, we did a little bit of everything, sports-wise. But I enjoyed it all."
His successful sporting life taught a variety of life lessons, none more important, he noted, than the significance of teamwork.
"Teams are always stronger than individuals," offered Tanner. "You learn that very quickly."
After his schooling, Tanner joined Canadian Pacific and worked for the Research Department for two years in Montreal and CP Investments for eight years in Montreal, Calgary and Toronto in Mergers and Acquisitions and corporate development and as Assistant to the President.
From there, he worked at a Merchant bank for six years, before landing at Shu-Pak and its predecessor company, Amertek.
Tanner, who has always had an active interest in International affairs, was selected as the Canadian representative in 1988 for Washington's Georgetown University's annual leadership seminar where 30 countries participated to provide input into formulation of U.S. foreign policy. He also has served on various community service boards along the way including the Canadian Institute of International affairs and the Toronto East General Hospital.
There have been a few twists and turns for Shu-Pak over the years, but Tanner, who co-owns the company with Dr. Victor Mele, has worked hard to keep things rolling smoothly at the home of the original one-man side-loaders, which operates out of Cambridge, Ontario.
"The company got redirected in the 80's," said Tanner. "It led to a restructuring and restarting back in 1996. Since then, we have completely redesigned our trucks, developed new products and expanded our sales across the country. We broadened our product line to include automated side-loaders. We currently make a drop-frame, automated side-loader.
We have trucks operating in every province in Canada, all the way from Newfoundland to British Columbia. We also have trucks in Labrador and the Northwest Territories. We also have trucks operating in the northeastern and central U.S. We sell both directly to municipalities and to contactors.

"We will actually be manufacturing a first all-electric garbage truck here in Canada over the next six to 12 months, which is very exciting," he continued. "We'll also be introducing a straight-frame side-loader over the next year."
That's far from the only new experience on the horizon for Shu-Pak in 2018.
Currently operating out of a 15,000 square-foot facility in Cambridge, Shu-Pak will be moving in the first quarter of 2018 into a new 60,000 square-foot facility in the city. Their output will increase three-fold: from 100 trucks a year to 300 trucks a year.
"We have an excellent and dedicated workforce here," said Tanner, whose company also manufactures vehicles that can run on compressed natural gas rather than diesel (three were recently shipped to Columbus, Ohio). "We've been building our customer base one at a time. There was a time when Shu-Pak used to dominate the side-loader business across North America, but after the challenges of the 90's, our competition took away most of the customers. But we are adding them back. The ones we have are always coming back for new trucks."
Tanner takes great pride in Shu-Pak's commitment to ensuring premium customer service.
"We're still small enough to be flexible," he noted. "When customers want specific things that are maybe a little out of the ordinary, we are capable of supplying that to them."
It's a united approach to an end goal he was introduced to on a much different playing field.
"The single-most important thing I learned through athletics was the importance of building good teams and teamwork," said Tanner. "You never forget that."
*
Tee time…
"I play golf at the Mississauga Golf & Country Club. I enjoy the game. My wife and I have been married for 37 years and we enjoy spending time together. I also have three children. Their ages range from 28-33. Helping them move forward in life is obviously a top priority."
On the importance of being an OWMA member…
"Besides the opportunity of interacting with contractors, municipalities and others in the waste industry, on-going education, public policy input and updates on current developments are some of the benefits that the association provides."
---