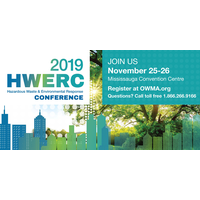 To register, view full program details and sponsorship/exhibitor information, visit our Event Registration Page
*Early Bird deadline extended to $490.00 until Nov. 15th!*
November 25th & 26th, Mississauga Convention Centre
Why you should attend!
The HWERC conference provides a timely forum to discuss the management of hazardous waste and special materials, soils and site remediation, hazmat transportation, spill response and cutting-edge technologies and practices. Valuable information will be provided by leading experts, to individuals and organizations engaged in the wide range of services and activities involving hazardous waste materials.
Company owners, plant managers, environmental professionals, consultants, lawyers, government officials and municipalities – all will benefit from the opportunity to learn, share experiences and network with peers. This is a valuable conference for any hazardous waste and environmental response professional who wishes to expand their knowledge of current issues and trends
Registration is $590.00 per person.
HWERC is co-hosted by the Ontario Waste Management Association (OWMA) & Haz Mat Magazine (hazmatmag.com)
Interested in Exhibiting?
Haz Mat Magazine is offering a limited number of exhibit spaces at the Mississauga Convention Centre. Please contact Brad O'Brien, Editor of HazMat Magazine at 416.807.2632 or bobrien@hazmatmag.com for more information and to reserve your space.
SPEAKER HIGHLIGHTS
November 25
Keynote speakers Jean Claude Morin, Directeur General and Dave Hill, National Director of Emergency Response from GFL Environmental Inc. will consider lessons learned from hazmat incidents in Canada. This information topic examines a variety of scenarios, including; train derailments, truck turn-overs, and hazardous materials storage depot explosions. The focus will provide an overview of some of the more serious incidents in Canada and discuss the valuable lessons learned during hazmat response.
November 26
We open the day with Carl Spensieri, M.Sc., P.Eng., Vice President Environment for Berkley Canada (a Berkley Company) on the topic of Environmental Insurance Industry Perspectives. Delegates will learn about the unique issues surrounding insurance / liabilities in the case of property clean-ups. The environmental insurance marketplace is changing fast and this talk will benefit any organization that could potentially be affected.
Session Topics Include:
Legal Reporting Requirements

Utilization of Countermeasures

Utilization of New Technologies for Hazmat Response

Spill Response and Hazardous Materials Management

New Requirements on the Shipment of Hazardous Goods: Provincial, Federal & International

Hazardous Waste Treatment Options

Environmental Emergencies: Science & Technology Research & Applications in the Real World
Lenders Perspective on Clean Up: Brownfields & Record of Site Condition

Legal Issues Related to Hazardous Waste Management

Transportation Issues of Hazardous Waste

Treatment & Disposal Options for Hazardous Waste

Dig & Dump Vs. On-Site Remediation: Factors to Consider

Management of Contaminated Site Clean-Up
---