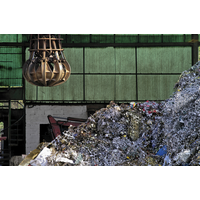 News Release
Ontario Sends Record Level of Waste to Landfills
Ontarians sent over 10 million tonnes of waste to landfills in 2018
July 24, 2020
BRAMPTON – For the first time ever, Statistics Canada reported that Ontarians sent over 10 million tonnes of waste to landfill disposal in 2018, a record amount. According to Statistics Canada's July 2020 Disposal of Waste, by Source Numbers Survey, total waste for disposal in Ontario was 10,085,613 tonnes in 2018, and increase of over 600,000 tonnes, or 6.4%, since 2016[1].
Residential waste for disposal increased by 276,000 tonnes to 3,980,665 tonnes per year, or a 7.5% increase from 2016. Non-residential waste for disposal from the industrial, commercial, institutional and construction sectors increased by 333,000 tonnes to 6,104,948 tonnes per year, a 5.7% increase.
Residential waste disposal includes non-hazardous solid waste produced by all residences and includes waste that is picked up by municipalities (either using municipal staff or through contracting firms), and waste from residential sources that is self-hauled to depots, transfer stations and disposal facilities.
Ontario residents are now sending three-quarters of a million (750,000) more tonnes of waste per year to landfills, compared to 2008, an increase of 23%.
According to the Ontario Waste Management Association's 2018 Landfill Report, there is just 123 million tonnes of landfill capacity remaining in the province[2]. About 3.7 million tonnes of waste is trucked to landfills in the United States. Ontario is expected to run out of landfill capacity by 2032 based on economic and population growth trends.
Statistics Canada's bi-annual Disposal of Waste, By Source survey is completed by businesses and municipal government bodies involved in waste management activities. The survey collects information on the quantity of waste that is disposed of in landfills. Data for all provinces can be found on Statistics Canada's website in Table 38-10-0032-01 Disposal of waste, by source.
For more information, contact:
Mike Chopowick, CEO at: mchopowick@owma.org
---