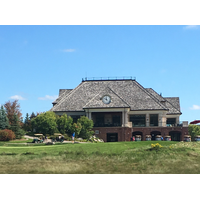 The OWMA's 35th Annual Fall Classic Golf Tournament was held on Thursday, September 13th at The Club At Bond Head, in Bond head, ON.
Over 150 golfers registered to hit the links on a picture-perfect day at the 27-hole course, an opportunity for everyone attending to network, catch up and also enjoy a round of golf.
The OWMA is grateful for the widespread support that members provide to its events and its vision.
"On behalf of the OWMA and the Board of Directors, I would like to thank everyone who attended and supported our tournament," said Rob Cook, OWMA's CEO.
The continued success of the Association is due in large part to the involvement, investment, collaboration and commitment of the members of the OWMA.
The OWMA would like to extend its gratitude to the many sponsors who once again helped make the Annual Fall Classic an outstanding day.
Thank you to Abrams Towing, A.S. Kemp Environmental Ltd., Big Truck Rental, Challenger Bulk, DiCan, Envirowirx, Greentec, HDR, Jake, Connor and Crew, Joe Johnson Equipment, Joseph Haulage Canada Corp., Keith Mfg. Co., Walking Floor International/Canada, Mack Trucks Canada, Mid-Ontario Truck Centre, Rehrig Pacific Company, Roll-Rite LLC, Roma Fuels. Triple M Metal, Truckz & Binzz, Willms & Shier Environmental Lawyers LLP and Wastehaul Transport Inc. for their support. Very special thanks to Miller Waste Systems who sponsored our dinner, Mack Canada who sponsored our refreshments and McNeilus who sponsored our lunch.
The OWMA would also like to congratulate the following golfers who topped their competition at The Club at Bond Head.
FIRST PLACE TEAM – sponsored by JOE JOHNSON EQUIPMENT was won by PHIL VAN TOL, RAY CHAMBERLAIN, ROB SPAZIANI AND WES BLANCHARD
SECOND PLACE TEAM – sponsored by WILLMS & SHIER ENVIRONMENTAL LAWYERS LLP., was won by PIERRE ST.AMAND, GEORGE YANOS, DAVID WEST and ZIYA ERKAN
THIRD PLACE TEAM – sponsored by TRUCKZ & BINZZ., was won by KEN FEDOSEN, ALEX FEDOSEN, ADAM HUDSON and PETER TOOLE
CLOSEST TO THE PIN – sponsored by Greentec– SHAWN JORDON
LONGEST DRIVE – sponsored by A.S. Environmental Ltd. – ADAM HUDSON
STRAIGHTEST DRIVE – sponsored by DiCan – ANDREW DRURY
CLOSEST TO THE PIN – sponsored by Roll-Rite – SHAWN JORDAN
CLOSEST TO THE PIN – sponsored by Jake, Connor & Crew – DAVE WEST
LONGEST DRIVE – sponsored by Mack Trucks Canada – MACKENZIE LOBBAN
STRAIGHTEST DRIVE – sponsored by HDR – DAVE WEST
FUN FOURSOME BALL – sponsored by Abrams Towing – by KEN FEDOSEN, ALEX FEDOSEN, ADAM HUDSON and PETER TOOLE
---