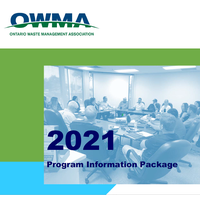 In 2019 the OWMA launched a high level mentoring and leadership program for waste industry professionals. While we were hopeful that the 2020 Program could continue, we were not able to make it work with the Covid 19 restrictions. We are very excited to announce that we will be launching the 2021 OWMA Mentor and Leadership Program beginning in January of 2021. We currently have four candidates signed up for the program and are excited to open up registration once again.
Plan for this as part of your budgeting for 2021 – sign up before the deadline of November 30th, 2020 – invoicing will take place in January of 2021. We look forward to welcoming the new mentees to the program.
For more information on the program and how to apply please see the attachment below!
---