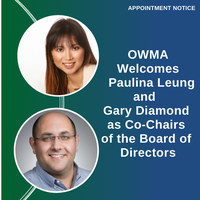 The Ontario Waste Management Association (OWMA) is pleased to announce Paulina Leung, Chief Sustainability Officer, Emterra Group and Gary Diamond, President, Quantum Lifecycle Partners LP, as Co-Chairs of the Board of Directors.
As Co-Chairs, Ms. Leung and Mr. Diamond will guide OWMA's strategic mission to provide value-added advocacy, information, and research services to its members and enhance Ontario's prosperity by promoting economically competitive and environmentally sustainable waste management solutions and public policies.
"We are excited to work together as Co-Chairs," said Ms. Leung. "There is much work to be done, but we will leverage our experience to bring a diverse and inclusive vision and approach to the association and industry. Together, we can build upon the collective success of the past and chart an impactful path forward for all Ontarians."
"It is an exciting year ahead," shared Mr. Diamond. "We look forward to working with the OWMA Board of Directors to help create a stronger and more effective voice for the waste sector, so we can continue to make Ontario cleaner, greener, and more sustainable for generations to come."
OWMA would like to thank Mr. Denis Goulet and Ms. Nicole Willet for serving as Chair of the association over the past year. OWMA would also like to extend a sincere thank you to outgoing Board Directors - Mr. Paul van der Werf and Mr. Norman Lee - for their ongoing support and dedication. We are pleased to welcome Ms. Lindsay Milne, Manager, Waste Management, Environmental Services, York Region, to the OWMA Board of Directors.
To read more about Ms. Leung and Mr. Diamond, please click here.
---