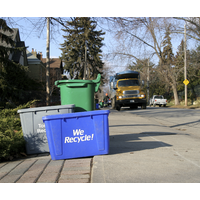 The Retail Council of Canada (RCC), Food, Health and Consumer Products of Canada (FHCP) and the Canadian Beverage Association (CBA) are issuing a Request for Expressions of Interest (REOI) to seek information about potential service providers and their capabilities to provide blue box compliance, collection and post-collection services on behalf of producers.
It is expected Ontario will promulgate a Blue Box Regulation under the Resource Recovery and Circular Economy Act 2016 in March of 2021. (The draft Blue Box Regulation is available here: https://ero.ontario.ca/notice/019-2579). This regulation would require producers to arrange a common collection system (CCS) for delivery of residential recycling in Ontario and to collect and manage blue box materials to meet management targets and service standards.
This REOI (click here to download) is to identify service providers that could provide a range of compliance services related to the management of blue box materials under a producer responsibility regulation. Responses should be sent by March 15 to kmorden@retailcouncil.org.
---