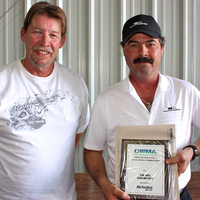 The OWMA's Truck Driving Championship in London last weekend brought out 56 drivers for a friendly day of competition, but only one could reign supreme.
This year Waste Management Driver Rob Hunter, of Kingston, took the Grand Champion prize for best overall score after he placed first in the front-end loader category of the competition, which was held at the City of London's Material Recycling Facility (Miller Waste Systems) on June 10.
"We are proud of Rob's win in this year's competition. He continues to show superior driving skills both on the course and on the road," said Nick Dominick, Waste Management Route Manager.
Drivers are judged based on a score of 50 points for their performance in the written test, pre-test inspection and each of the eight challenges on the truck-driving course out of a possible total of 500 points.
The competition includes four different categories: front-end loader, rear loader, special services and roll-off. The third, second and first place winners for each category (which are listed below) are now moving on to compete in the Ontario Truck Driving Championship (OTDC), which is being hosted at the PowerAde Centre in Brampton this year on July 8.
The OWMA appreciates the support of our sponsors and the dedication and professionalism of all of the drivers in our annual competition. We would like to wish each of our winners good luck in the OTDC.
For more details about the Truck Driving Championship and our sponsors, click here to download our event summary.
To see what the day was like, take a look at our Facebook photo album of the event by clicking here.
OWMA Truck Driving (Ontario) Championship Winners
Grand Champion (sponsored by London Machinery Inc.)
Rob Hunter, Waste Management of Canada Corporation, Kingston
Rookie of the Year (sponsored by Emterra Environmental Inc.)
John Gribben, Tomlinson Environmental Services Ltd., Ottawa
Front-End Loader (sponsored by Joe Johnson Equipment Inc.)
First Place: Rob Hunter, Waste Management of Canada Corporation, Kingston

Second Place: Norm Doyon, Waste Management of Canada Corporation, Sault Ste. Marie

Third Place: Edward Antrobus, GFL Environmental Inc., Toronto
Read Loaders (sponsored by Miller Waste Systems Inc.)
First Place:

Second Place: James Davies, City of Hamilton, Hamilton

Third Place: Nathan Atkinson, Waste Connections of Canada, Chatham
Special Services (sponsored by Ontario Waste Management Association)
First Place: Tom Honsinger, Miller Waste Systems Inc., London

Second Place: Ross Ware, Waste Connections of Canada, Bracebridge

Third Place: Dale Sterling, Miller Waste Systems Inc., London
Roll Off (sponsored by Big Truck Rental)
First Place: Richard Moreau, Waste Management of Canada Corporation, Sault Ste. Marie

Second Place: John Gribben, Tomlinson Environmental Services Ltd., Ottawa

Third Place, Michael Gauthier-Granov, GFL Environmental Inc., Toronto
---