OWMA's Women of Waste (WoW) is moving and shaking!
November is shaping up to be a busy month for the Women of Waste (WoW) subcommittee.

We have been invited to speak at a webinar for the National Solid Waste Benchmarking Initiative (NSWBI) on the November 24th where we will have the opportunity to provide some insight into our objectives and highlight our accomplishments as a group for 2021. The NSWBI was established in 2011 with the primary goal to bring municipal solid waste  professionals together from across Canada to manage and monitor the performance of their solid waste management systems. They do this by establishing key performance measures on financials, waste reduction, collection services, processing, and operations systems and safety.  They were extremely interested in what our group has been up to this year and we are thrilled for Bev Newman from Waste Management and Andrea Ivanovs from the Region of Peel to represent the subcommittee in a 30-minute panel discussion centered around the formation of WoW and why it is so important to have a strong industry voice through the OWMA. 
But that's not all…..
We are also busy preparing for an upcoming Webinar series of our own entitled "Getting Your Seat at the Table". This will be an informative 2-part series, presented by the WoW subcommittee and supported by SWANA, that will focus on the skills of Persuasion and Negotiation.  
The first session, "Persuasion" will be held in December with two convenient options to attend:
December 6th in the evening from 7:30pm - 9:00pm
OR
December 9th from 12:00pm -1:30 pm. 
Keep an eye out for registration information coming soon.  You will not want to miss this exciting opportunity!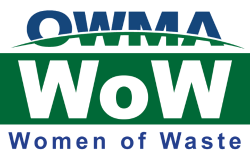 WoW Committee
Chair:
Beverley Newman, Sr. District Manager -Dispatching & Routing
Waste Management of Canada Corporation

Committee Members:
Paulina Leung, Chief Sustainability Office
Emterra Group
Andrea Ivanovs, Advisor
Regional Municipality of Peel
Rachael Graziotto, Business Development and Operations Strategist
Covanta Environmental Solutions Inc.
Trish Edmond, Principal, Geoenvironmental Engineer
Golder
Courtney Walsh, Program Lead, Resource Recovery
Walker Environmental