Event Details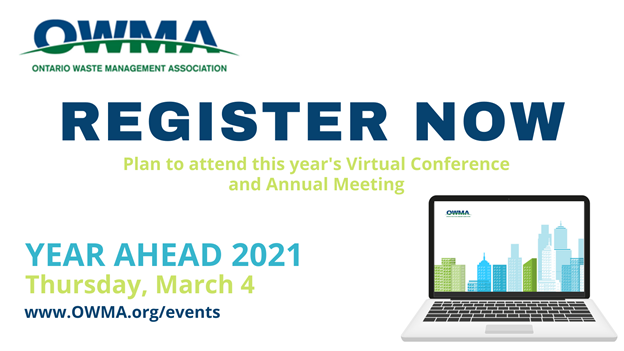 Join us on Thursday, March 4, 2021 virtually for the OWMA 2021 Year Ahead Virtual Conference and Annual Meeting. This year's event will provide essential insight and information on some of the most important issues and opportunities facing the waste sector in the Year Ahead.
8:50 a.m. Welcome - OWMA, Mike Chopowick, CEO
8:55 a.m. Welcome - Ontario Government, Premier Doug Ford
9:00 a.m. Welcome - Ministry of Environment, Conservation & Parks Hon. Jeff Yurek, Minister
9:15 a.m. RPRA Update, Frank Denton, CEO, RPRA
Business Session:
9:30 a.m. OWMA Annual Business Meeting
Chairman of the Board Report
Financial Report
Bylaw Revisions
Nominations for the Board of Directors
Member Engagement with the Board of Directors on Association
10:30 a.m. Women of Waste Panel
Moderator: Paulina Leung, Chief Sustainability Officer, Emterra Group
Michelle Martin, Director of Fleet Eastern Canada, Waste Management
Casey Roberts, Operations Supervisor, Emterra Environmental
Andrea Ivanovs, Advisor Waste Collection, Region of Peel
Mary Cummins, Deputy Registrar, Resource Productivity and Recovery Authority
Mary Molony, Vice President, Finance, U-Pak Disposal
2021 Annual Business Meeting Notice
2021 Board of Directors Nominations
THANK YOU GOLDER FOR YOUR SPONSORSHIP!
OWMA is pleased to provide an opportunity for your organization to sponsor this year's Year Ahead Conference. Download this year's sponsorship informational kit here.
Thank you!