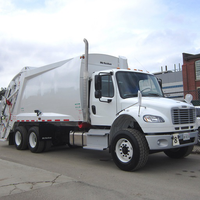 LONDON – The Ontario Waste Management Association is set to host the 27th Annual Waste Sector Truck Driving Championship Competition on the morning of Saturday, June 8, 2017, at the City of London's Material Recycling Facility at 3438 Manning Drive in London.
Drivers will, again, compete in four categories (Front End, Rear Loader, Special Services, and Roll Off) for the honour of being "Waste Sector (Ontario) Truck Driving Champions."
This long-standing association event brings together waste management workers and their families for a fun-filled day of competition while highlighting the importance of safety for waste collection truck drivers.
For more information, click here.
Location: City of London Material Recycling Facility, 3438 Manning Drive, London
Date: Saturday, June 10, 2017
Time: Competition runs from 8 a.m. to noon.

Awards will be presented after lunch.

Media Contact: Shane Buckingham | sbuckingham@owma.org
---