Activating strong female participation and engagement in the waste management and recycling industry
The OWMA Women of Waste (WoW) subcommittee launched in 2021 to provide enhanced support, engagement and value to women across the sector. The WoW subcommittee's mission is to develop and support initiatives empowering strong female participation and engagement in the waste management and recycling industry.
One of the first initiatives completed was research to help understand the needs and views of the sector. The results of the survey is assisting the subcommittee in enhancing the support for women across the waste management section. Beyond the research, initiatives in the works will include outreach to like-minded groups, hosting targeted events based on some of the intel received from the survey and developing material for younger females still pursuing their education.
The purpose of this web page is to provide you access to the latest information from the subcommittee; meet subcommittee members; find out about upcoming events, and so much more!
Read the latest news from the Women of Waste subcommittee: 
September  7, 2022 -

 

Showcase the Achievements of Women in Waste
August 19, 2022 - WoW: Terms of Reference 2022
August 10, 2022 - Meet the New WoW Subcommittee Members 
This summer, the OWMA WoW Subcommittee put out a call for two new members and is now excited to announce our recent additions! Please join us in congratulating Kayla Kleber from Nova Products and Sharon Smith from Recycle Smart as they join the WoW Subcommittee effective July 2022. Get to know them a bit better by checking out their full bios.
June 1, 2022 - OWMA Women of Waste (WoW) Call for Members
January 26, 2022 - WoW update: A look behind...a look ahead
January 21, 2022 - WoW research summary now available 
January 21, 2022 - 

Meet the

Women of Waste subcommittee members
November 2, 2021 - WoW update

 

March 8, 2021 - 

Celebrating the Women of Waste

- Blog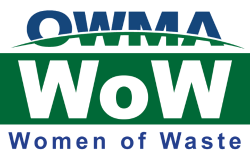 WoW Subcommittee
Chair:
Beverley Newman, Sr. District Manager
WM

Subcommittee Members:
Paulina Leung, Chief Sustainability Officer, Emterra Group
Andrea Ivanovs, Advisor, Waste Collections, Regional Municipality of Peel
Rachael Graziotto, Business Development and Operations Strategist, Covanta Environmental Solutions Inc.
Trish Edmond, Principal, Senior Environmental Engineer, Golder
Sharon Smith, National Sustainability Manager, RecycleSmart Solutions
Kayla Kleber, Sales & Marketing Manager, Nova Products
 
Meet the Women of Waste Subcommittee members - Click here to read their bios.
 
To read the Women of Waste (WoW) Subcommittee Terms of Reference.