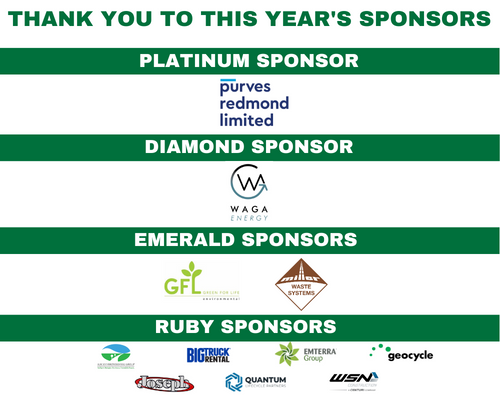 CLICK HERE to download the 2023 Program.
We are excited to announce that the event is back in-person and is taking place at the Toronto Airport Marriott.
During this year's event, you will
have the opportunity to hear from a wide range of engaging speakers;

hear the latest insight and information on the issues and opportunities facing the industry and your organization; and

reconnect and network with professionals from across the waste and recycling sector.

Exciting Speakers
You won't want to miss the line-up of recognized speakers. This year's invited speakers include:
A PRO Panel featuring: Steve Meldrum, CEO, eTracks Tire Management Systems; Gordon Day, Vice President, Ryse Solutions; Maury Shnier, President, Mobius PRO Services; Clayton Miller, Quantum Lifecycle Partners; and moderated by Michael Cant, Principal, GHD

Allen Langdon, CEO, Circular Materials

Presentation by Reverse Logistics Group

Dave Gordon, Senior Advisor, Waste Diversion, AMO

Pam Castillo, Manager, Registry Support, The Resource Productivity and Recovery Authority

James Jennings, Associate, Filion Wakely Thorup Angeletti LLP

Tej Gidda, Principal & Global Leader for Future Energy, GHD

Beverley Newman, Sr. District Manager, WM

Andrea Ivanovs, Advisor, Waste Collection, Peel Region

Rob Gilmour, Vice President, Crestview Strategy

Sue Fraser, Waste Reduction and Management Division, Environment and Climate Change Canada / Government of Canada
Sponsorship Opportunities
Register to become a sponsor at OWMA's 2023 Year Ahead Waste & Recycling Conference.
To view the difference benefits of each sponsorship opportunity, please click the below link.
Hotel: Toronto Airport Marriott
901 Dixon Rd, Etobicoke, ON, M9W 1J5
Room Price: $199 CAD per night

To complete your hotel reservations, please visit the booking website by clicking Book Online.
To speak to a live person you may call the toll-free reservation number at 1-800-905-2811
Room rates increase on Friday, January 20th, 2023. Be sure to secure your reservations prior to that date to ensure you receive the discounted room rate.
901 Dixon Rd, Etobicoke, ON M9W 1J5, Canada