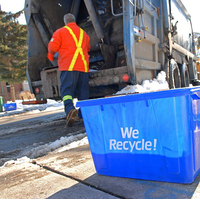 Recycling in Ontario: Taking a Giant Step Forward
New announcement will help move Ontario into a modern era of better recycling
Today marks an important step forward for Ontario as the Minister of the Environment, Conservation and Parks, Jeff Yurek, announced that the responsibility of Ontario's Blue Box Program will be transferred to producers of plastic and other packaging.
While some of the first curbside recycling programs were introduced by Ontario municipalities in the 1980's, and the province has achieved a 62% rate of recycling, we all recognized that the Blue Box Program requires enhancements and a new approach to better meet today's needs.
The volume of packaging waste and the amount of litter in our communities has increased, while recycling costs have skyrocketed and waste diversion rates have flatlined. We needed to take strong action to move Ontario into a modern era of better recycling and to showcase the province as a global leader in environmental stewardship. That is why, OWMA has called for the implementation of the new Blue Box system that ensures that corporations who produce packaging are fully responsible for recycling those materials.
Producer responsibility is not only good for the environment, it is also good for the economy and will encourage investment, job creation and innovation in the recycling and resource recovery sector. With this new Blue Box Program, producers will be responsible for the products they put into the marketplace and they will be encouraged to change product and packaging design to reduce packaging waste. The program will better allow producers to effectively and accountably promote waste diversion and better manage the handling of over 800,000 tonnes of products and packaging at the end-of-life stage. Ultimately, it will create a cleaner environment, support jobs, and reduce the burden on taxpayers.
Making producers responsible for the full waste cycle of their products will make recycling easier and more accessible across the province. A producer responsibility model also reduces the burden on taxpayers and promotes a competitive market for diversion.
OWMA members represent 240 organizations and over 17,000 front-line waste workers. As a sector, OWMA has supported and advocated for a full producer responsibility model for the Blue Box to ensure that producer companies are responsible for the costs of recovering materials from the waste stream, while encouraging improved diversion of waste from landfills.
Over the last month, OWMA members have been intensifying the call for moving forward with new Blue Box regulations in order to fix the broken system. OWMA would like to thank all those involved in the ongoing consultations and for sharing their views through OWMA's digital advocacy campaign that helped support the transition to the new program.
Today's announcement is truly a giant step forward, and OWMA applauds Premier Ford and Minister Yurek for delivering on its government's commitment to expand and improve the Blue Box Program. OWMA looks forward to working with the Ontario government in implementing a better recycling system for Ontarians.
---