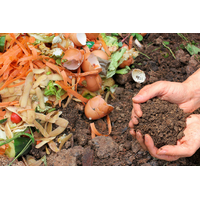 Ontario is steadily advancing toward a circular economy. The government has already taken steps to reform existing recycling programs and has laid out its Waste-Free Ontario Strategy to guide the province's path toward a diversion rate of 50% by 2030 and 80% by 2050. Achieving these goals, however, will require a comprehensive plan to tackle organic waste.
Every year, Ontarians generate more than 12 million tonnes of garbage, which is enough to fill the Rogers Centre nearly 16 times. About a third of that number, or roughly four million tonnes, is organic waste.
Throwing out such a large amount of organic materials not only represents a lost opportunity for Ontario to create jobs and growth in the circular economy, but it also generates a significant amount of greenhouse gas (GHG) emissions in the province.
With roughly 5% of GHG emissions coming from disposal, Ontario must increase organics diversion to meet its climate change goals and advance toward a more circular economy.
Moving in this direction will better protect our environment and promote job creation by opening up new markets for recovered organic waste, which can be used to generate biogas energy and create compost or other amendments to enrich soil on farms.
Ontario government places priority on organics diversion
To facilitate Ontario's transition to a circular economy, the government has already taken action in several areas that the Ontario Waste Management Association (OWMA) has advocated for in our ReThink Organic Waste paper in 2015 and in our most recent submission to the government.
First, the government has announced that it intends to release a Food Waste and Organics Action Plan by the spring of 2018. To assist with the development of this plan, the Ministry of the Environment and Climate Change has established a working group of producers and waste management service providers to help set standards, timelines and responsibilities for the reduction and diversion of organic waste.
Second, the government is working with the Climate Action Reserve to adapt existing protocols under the Western Climate Initiative to govern the sale and trading of offset credits for organics diversion within the province's cap-and-trade market. These offset credits will provide a financial incentive to invest in the compost and biogas sectors.
Third, the government intends to develop a policy statement to complement its plan to reduce and divert organic waste in advance of introducing a food waste disposal ban.
For the government to achieve all these goals, several regulatory and policy changes still must be made.
Transitioning to a circular economy for organic waste
As an active member of the province's organics working group, the OWMA has highlighted the need for more processing capacity in Ontario.
In the OWMA's State of Waste in Ontario: Organics Report, which was released last year, we determined that 1.4 million tonnes of Ontario's organic waste is currently being processed while more than 2 million tonnes is not.
That means Ontario will require significantly more processing capacity to achieve the government's potential targets of 40% organics diversion by 2025 and 60% by 2035.
Currently, our research shows Ontario has a total of 76 organics processing facilities, or 41 compost and 35 anaerobic digestion facilities.
To increase the province's processing capacity, the OWMA has outlined steps that must be a part of the government's strategy.
First, the government must reduce the regulatory burden for organic processing facilities while maintaining the highest level of environmental protection. Ontario businesses can wait up to 300 days to get a standard environmental approval required to develop or upgrade a facility. These delays must be reduced to attract further investment in processing facilities.
Second, the government should encourage the best use of organic materials by introducing new policy tools, such as disposal bans, disposal levies and, potentially, extended producer responsibility programs.
Finally, the government should align its climate and energy policies, which includes those for offset credits and renewable natural gas. Reducing regulatory overlap and ensuring policies complement, not conflict, with one another will play an essential role in encouraging the required investment to build the processing capacity Ontario needs to achieve its waste diversion and climate change goals.
---