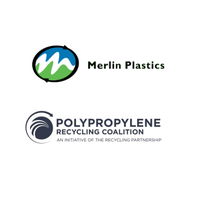 DELTA, BC (November 5, 2020) – Merlin Plastics announced today that it has joined The Recycling Partnership's Polypropylene Recycling Coalition. Merlin's membership in the US-based, industry organization will allow it to bring its 30 plus years of experience in the Canadian and US recycling plastics realm to assist the Coalition's drive to improve the recovery and circularity of polypropylene (PP) plastic. PP is widely used in consumer food and non-food packaging such as yogurt tubs, dairy containers and snack food packaging.
"Merlin Plastics is honored to partner with producers and manufacturers of consumer products packaged in PP and to support the Coalition in making PP circular throughout the value chain," said Merlin's Founder and President Tony Moucachen. "Polypropylene packaging is a valuable resource that can and should be recirculated. We are enthusiastic about being part of this industry coalition to help lead the way to finding solutions to improve recovery and reuse. Polypropylene is a valuable resource. It belongs in the curbside recycling system."
The membership of the Coalition includes companies and organizations such as Keurig Dr Pepper, Procter and Gamble, Dannon North America, Walmart Foundation, and Winpack. Its stated goals include the funding of leading-edge initiatives in municipalities throughout the US aimed at recovering more post consumer PP plastic for recycling.
Merlin has a long history as a progressive player in the recovery and recycling of post consumer plastics in North America. It has tested and adopted emerging plastics recovery technologies and developed patented processes for its technology. By successfully forming partnerships along the plastics value chain, Merlin has been able to pilot and expedite new and circular technologies and business models.
"We are excited to have Merlin Plastics as a new member in The Recycling Partnership's Polypropylene Recycling Coalition. Merlin's expertise in post-consumer recycling sorting and processing will enhance our overall understanding of these technologies and enable us to strengthen polypropylene packaging collection in curbside recycling programs," said Ali Blandina, Director of Circular Ventures, The Recycling Partnership. "Together, we can stimulate a systemwide shift to increase the capture of polypropylene and demand for recycled content. We encourage all companies that use polypropylene to be part of the solution."
Moucachen, a pioneer in post-consumer recycling technology and processing, believes that in the wake of the end market changes that have challenged the North American recycling industry in the past five years, now is an opportune time to build, improve and refine the underlying technologies to create a more sustainable recovery infrastructure. This infrastructure will then support the goal of achieving circularity of polypropylene packaging in recycling systems in Canada and the US, through stronger and more transparent partnerships.
About Merlin Plastics
For the past 30 years, Merlin Plastics has planned, developed, and refined the re-processing of plastics such as polyethylene (PE), PP, low density polyethylene (LDPE), and polyethylene terephthalate (PET). The company began its recycling business in the late 1980's out of a 2000-square-foot warehouse in Delta, BC. Today, Merlin owns and operates recycling facilities totalling over one million square feet in space with sister plants located in Alberta, Ontario, California, and Oregon. Merlin Plastics has been honored to receive various awards over the years including the "Outstanding Contribution to Recycling" award from the Recycling Council of Alberta, as well as an award from the Recycling Council of BC that recognized Merlin Plastics for its "ongoing commitment to the ideals of responsible environmental stewardship in the Province of British Columbia."
Merlin Plastics believes that everyone has a vital role to play in successful recycling: consumers via participation in community recycling efforts; government by developing policies that encourage the use of post consumer recycling (PCR) and incentivizing the building of recycling infrastructure; brand owners by designing packaging for recyclability and using PCR in their packaging; and finally resin manufacturers, converters and recyclers by embracing and supporting this culture of change towards a new market reality.
Merlin Plastics is committed to providing environmental services in an economically efficient, environmentally sound and socially responsible fashion.
Learn more at www.merlinplastics.com
About The Recycling Partnership
The Recycling Partnership is a national nonprofit organization that leverages corporate partner funding to transform recycling for good in states, cities, and communities nationwide. As the leading organization in the country that engages the full recycling supply chain from the corporations that manufacture products and packaging to local governments charged with recycling to industry end markets, haulers, material recovery facilities, and converters, The Recycling Partnership positively impacts recycling at every step in the process. Since 2014, the nonprofit change agent diverted 230 million pounds of new recyclables from landfills, saved 465 million gallons of water, avoided more than 250,000 metric tons of greenhouse gases, and drove significant reductions in targeted contamination rates.
Learn more at recyclingpartnership.org
---