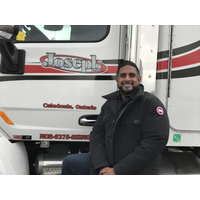 By: Chris Lomon
*
Geoff Joseph, admittedly, doesn't have much luck when it comes to playing board games. When it comes to the business world, however, it's a much different story.
When he's not busy – seven-day workweeks are not out of the ordinary – Joseph, president and CEO of the Joseph Group, appreciates getting the most out of family time with his wife and two children.
"I coach both of my kids' hockey teams," started Joseph. "We also like playing board games and hide-and-go-seek. We just have a lot of fun when we're together."
That is despite Joseph's less-than-stellar record when it comes to certain bragging rights within his household.
"You know what?" he offered. "I don't hold any crowns (in board games) to this day."
But Joseph, who earned his Bachelor of Commerce at McMaster University, has had plenty of success elsewhere.
And he certainly had an ideal role model.
With a dream of business success, one dump truck, and a tireless work ethic, Geoff's father, Joseph K. Joseph, built Joseph Haulage Corp., one of the leading transportation companies in Southern Ontario.
After the elder Joseph's retirement, Geoff took over the reins and restructured the organization. Nearly four decades after its humble beginnings, Joseph Haulage Canada Corp. has grown to a fleet of 200 units operating 24 hours a day, seven days a week, from its three locations.
Geoff hasn't forgotten both the words and actions of his father during his early days with the company.
"He was lucky to have great employees that supported him, which helped during the struggles of opening a business," he recalled. "My father has always had that mentality that if he had two dollars, he would give one dollar to someone that needed it. That resonates with us. We support our employees with any of the challenges they may have.
"My father, I watched him work seven days a week," continued Geoff. "There was a good balance on family, but there was no such thing as a five-day workweek in the early days."
Joseph hopes his children appreciate the major responsibilities and commitments that come with running a company, not just certain perks that come with the role.
"My kids are seven and nine," he noted. "You hope they understand that my job is much more than just going out for lunch. There are a number of companies that are in Joseph Group, which keeps me busy. The main business I represent is Joseph Haulage Canada Corp., which specializes in construction materials and waste."
What does he see as some of his most impactful day-to-day responsibilities?
"I would say it's to lead and mentor my senior management group and to help them grow in their roles," said Joseph. "Mergers and acquisitions are what I'm focusing on right now, as well as the long-term planning of the company."
Joseph still does find time, however, to indulge in one of his favourite hobbies.
Spoiler alert: he has a need for speed.
"My really big hobby is cars," said Joseph. "I have a number of cars and I own a car business called Ultimate Exotics (Stoney Creek). We specialize in exotic car experiences. It's about driving super cars – Ferrari, Lamborghini, McLaren and Porsche – throughout the Niagara region. We also do some track stuff."
It's not just all about four wheels for Joseph.
"I spend a lot of time on my bike," he continued. "I do a lot of South Dakota and Florida-type tours on our Harleys."
One might be inclined to think running businesses, offering automobile experiences, family trips (it's California this year) and hitting the open road on his motorcycle might leave Joseph little time for anything else.
Guess again.
"I'm playing basketball again," he noted. "I'm going to coach basketball – my son has taken a liking to it – so I'm looking to coach his team. I've always said to my son he has to practice harder than he plays, so the game actually feels a like practice."
He likens that approach to the times, great successes, others personally tough, at Joseph Group.
"In 2008, my father exited the business suddenly when we found out my mother had cancer," recalled Joseph. "It was a tough time but through it, I was able to grow the business. He drove a truck all his life, even when he retired. He was never an office person.
"My mother passed and my father, who is in his 77th year, has cancer now," he continued. "Some people don't get the chance to say goodbye when someone passes away suddenly. I look at it as a chance to celebrate what we've done."
Something father and son can both take great pride in.
*
Helping Hand
Joseph Group is a major corporate sponsor of City Kids in Hamilton, whose mission is to end child poverty. They also support Believe, which is dedicated to childhood cancer awareness.
On Being an OWMA Member
"It's a great place to have when we have issues and your voice needs to be heard. The amount of publications, communications and information we receive is very important to us. It's tremendous value for a little bit of money."
---