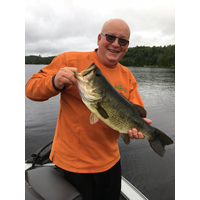 Get To Know: Rick Vandersluis (TRY Recycling)
By Chris Lomon
*
Whether it's at work, home or on the water, Rick Vandersluis of TRY Recycling is all about the great outdoors.
It didn't take very long for a young kid to find his calling in life. In fact, he hadn't even started high school when he realized where his career path was leading.
Where that would be and what it would precisely be was still unknown. The one thing Vandersluis was certain of was that it wouldn't be an office job.
"I grew up as a heavy equipment operator," he recalled. "My dad had a family business when I was young. I grew up in Blenheim (Ontario). I got to work heavy equipment from a very young age, probably when I was 12 or 13. I went to college, came from home that, and started a small construction business. That was during the early 80s and the economy wasn't great, so I moved to London."
It turned out to be an excellent decision.
"I brought a piece of equipment with me and started working with various companies in London and that area," Vandersluis recalled. "I ended up working with one of the three original owners of TRY Recycling. I was working as an operator, doing various odd jobs and running different piece of equipment. Back then, you'd get laid-off in the winter. He called me in the winter of 1990. I started at TRY, working in the yard, between Christmas and New Year's that year. I was the first outdoor guy they hired there. I've been there ever since."
It's only fitting that a weekday conversation with Vandersluis would take place while he's travelling Highway 401. Meeting business owners and getting contracts signed is a big part of his role as Vice President of Business Development with TRY.
Did country singing legend Willie Nelson have him in mind when he wrote the hit tune, 'On the road again?'
"Maybe he did," said Vandersluis with a laugh. "I'm the guy responsible to make sure we have work to supply work for 55 people in the company I'm the guy trying to make sure we've got contracts and work to do for the people of TRY Recycling. That's how I look at my job. I don't sit in an office. Right now, I'm out on the road heading to Cambridge because we're doing some work with the Region of Waterloo.
"At the end of the day, I look at my job as making sure there are materials going into our yard and out of our yard to help keep everybody busy and employed."
It's something he's done – and done well – for nearly 30 years.
However, he's not the only one in his household who knows a thing or two about work longevity.
"Cathy (Vandersluis' wife) and I often speak of longevity," he said. "She works at London Health Sciences Centre at the hospital. It will be 33 years for her this year. We're both very happy with the way our respective careers have gone.
"Working at TRY has been an excellent job for both myself and my family. I feel very fortunate. I'm very proud of what we've accomplished. And I'm also very proud of what my wife, Cathy, and I have accomplished with our two sons, Cameron and Alex."
Vandersluis also takes great pride in his longtime passion for fishing. And yes, he does have a fishing story to share – a good one at that.
But it does come with a catch, no pun intended.
"One of my very good friends is Bob Izumi," he said of the fishing expert and television personality. "We grew up together. Bob and I still talk all the time. We've done a lot of fishing together in our lives. I've done a lot of fishing in Ontario and in the U.S. My best story is when I was about 15 or 16…I beat Bob in a bass tournament. I remind of that all the time, but he reminds me that he's had a fishing show for some 30-odd years.
"I love to fish. I'm waiting to pick up our new boat. I traded in our old one to get something a little bit larger. I fish with my family, friends or even by myself. When I'm by myself, I don't have to explain why we aren't catching anything. The only person I really have to tell the truth to is myself."
Vandersluis' affinity for the outdoors doesn't end on the water.
Come the weekend, you'll find him in his backyard sanctuary, glass of wine in hand.
"We love our yard," he said. "Our backyard is our cottage we say. It's a nice property with a garden, fire pit and a fish pond. My wife and I spend a lot of time there on the weekend, enjoying a glass of wine. We also golf together. It's just nice any time you get to be outdoors."
Something that Rick Vandersluis discovered a long time ago.
*
On Being An OWMA Member
"For me, it's the networking opportunities and having a chance to meet people that are in the industry. I've met a lot of great people through the OWMA, some that have become good friends. Everyone that I've met through the OWMA is very professional. Everyone understands their roles and what needs to happen to move things forward in the industry. We're all trying to do the best for our business, but we're also trying to make the world a better place."
---