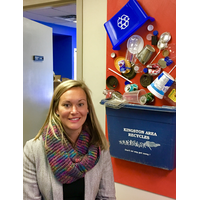 By: Chris Lomon
As a rap music fan, Heather Roberts, admittedly, doesn't hit all the right notes when she tries her hand at it. It's quite a different story, however, when it comes to her career.
Once her day is done at the office, it's not uncommon for the City of Kingston's Manager, Solid Waste Operations, to turn up the volume on the car stereo and listen to some of her favourite music on the way home.
"I love rap music," said Roberts. "I'm sure most people I know, if they got into my car, they would be quite surprised to hear what I'm listening to. But it's a stress-reliever for me. I think it's an incredible form of poetry."
It's also a good way to unwind while adding in her vocal contributions.
"For sure," she said. "I'm totally rapping along. I've always loved rap music. But I have to admit, I sound nothing like the artist that is performing it."
Her true talents can be found with her role with the City of Kingston, the place she's worked at since 2010.
The path that led her there began at Fleming College in Lindsay, Ontario, where she took Environmental Studies. Roberts started her work life in the field doing consulting jobs, specifically, phase one and phase two environmental site assessment work, the majority for transactional purposes.
"From there, I talked my way into a job with a municipality in Renfrew County," Roberts recalled. "They had never had an environmental engineering technologist before. I wanted to know more information from the director about a civil engineering technologist that they were also hiring. There were duties assigned to that role that were related to water, wastewater, solid waste and environmental aspects.
"In talking to her, she had told me they were looking to split this role into two positions because they were having a hard time finding a civil technologist that would fit into those other roles," she continued. "I met with her and the CAO a couple of times, and they decided to hire me. That's how I got into the municipal world out of the consulting side."
Roberts spent nearly two years with that municipality before her husband, an environmental engineer for Pinchin Environmental, was asked to run the company's Kingston office.
The news put two major things on the couple's immediate to-do list: uproot to a new city and Heather finding a new job.
As luck would have it, there was an ideal opportunity available.
"I had done a lot of solid waste work in Renfrew County and that's primarily where my passion was," noted Roberts. "I had done a lot of wastewater compliance as well. When I knew we were moving to Kingston, I immediately checked the City of Kingston's website and there just happened to be a job posting for the Supervisor of Solid Waste. My husband said, 'You have to get that job.' I said to myself, 'I have to get that job.'
"I was formally interviewed and then met with the Commissioner and was offered the job as, Supervisor, Solid Waste Disposal," she continued. "That was in 2010.
I was in charge of the operation of the material recovery facility and overseeing the other programs at the Kingston Recycling Centre, along with a lot of contract management. One major goal was to implement a waste recycling strategy and increasing waste diversion. That was a big driver when I first started here. We needed to focus in that area."
Through another job posting, Roberts was named head of the department in the spring of 2014.
After taking 10 months off to care for her second child, she came back in June of 2015.
Roberts' responsibilities cover the entire division, including running the city's central waste diversion complex and solid waste garage. She has 40 staff dedicated to delivering quality waste collection, promotion and education and other administration services to 125,000 residents.
"I'm extremely proud of my staff," she said. "They are devoted to reaching goals. Our biggest target was to reach council's goal of 60 per cent waste diversion. We recently found out we have a waste diversion of 60.9 per cent. I'm really, really proud of that! Reaching that goal required an immense devotion from Kingston residents to put their waste in the right place, and my team to match their service level expectations at the curb. We've done a lot of public education and promotion."
Roberts also takes great pride in the results of customer satisfaction surveys taken over the past two years.
"Overall, between 'satisfied' and 'very satisfied,' 89 per cent of the people that responded chose satisfied or very satisfied," she noted. "We had over 1,300 people respond to it. I'm also proud of the public's devotion to give feedback. People are talking about it. I'm proud of Kingston and the work that the solid waste division staff do every day."
Outside of the office, she takes great pride in her love of redecorating.
Keeping her projects under wraps, at least for a little while, has become the norm.
"When my husband is gone for a weekend, he'll come back and I'll have painted a wall or moved furniture around," Roberts said with a laugh. "When he comes home, I don't tell him anything's changed pretend it didn't happen."
It's not the only thing that keeps her busy.
"Three years ago, my husband and I – along with a few other couples – bought a
fly-in fish camp near Blind River (Ontario), Blue Fox Camp," she noted. "It's a commercial business that provides avid fisherman with a world-class trout fishing experience. We spend a week there, all of the families, in the summertime.
"We also have two young boys," she continued. "They keep us incredibly busy.
Our favourite thing to do as a family is to be on the water. We have a pontoon boat and a bass fishing boat. By far, our favourite thing to do is be out on our pontoon boat, swimming and barbecuing and listening to music, with mama rapping along. We all look forward to the summer. It's the highlight of the year for us."
The biggest highlight most Monday to Fridays – at least before she opens the front door – is rapping along to her favourite musical artists.
If given the chance, who would she choose to do a rap duet with?
"Probably Eminem or 50 Cent," offered Roberts. "Newer rap is on my radio as well, like Drake, The Weekend and Fetty Wap. Maybe I could think about rapping out some things about waste and using our waste programs?"
With such a highly successful track record with the City of Kingston, it might go over better than she'd think.
*
Fun and games…
"I don't love Nerf gun wars, but that's by far the most popular thing in our house. So, mom does her best to dodge the foam darts."
On the importance of being an OWMA member…
"It's so important to stay connected with the waste industry, and not just with other Ontario municipalities, but staying connected with everyone – from waste haulers, brokers, suppliers, etc. The membership is valuable to the City, especially in the ever-evolving waste world. The OWMA provides valuable insight and input on emerging topics in the waste industry that any municipal waste manager would want to stay informed on. We're happy to be a part of the association and be a part of the larger waste community – and the OWMA enables that."
---