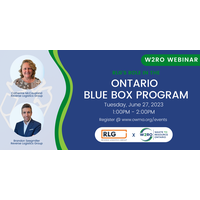 Waste to Resource Ontario (W2RO) proudly presents an exclusive webinar featuring RLG, a leading supporter of Ontario's legislative transition to full Extended Producer Responsibility (EPR) for packaging materials.
RLG is prepared to support Ontario's legislative transition to full EPR for packaging material which begins July 1, 2023. As the Common Collection System (CCS) Operator, RLG has partnered with Circular Materials Ontario (CMO), to collect, deliver, audit, and distribute Blue Box Materials (BBM) to each Producer Responsibility Organization (PRO) registered under the Regulation. RLG has developed a superior IT system called "Track and Trace" which documents and monitors the movement of BBM throughout the CCS and will drive program improvements through competitive procurement and operational efficiencies. They look forward to sharing their operational expertise with you!

Brandon Seegmiller is the Vice President of Canada Business for Reverse Logistics Group. His focus is providing the best customer service while empowering a circular economy within the Canadian Marketplace. With over 15 years of experience across major fortune 500 companies, Brandon is known as a Legislative Policy Expert in the information technology and compliance services industry. As leader of the Canada sector, Brandon owns the rapid RLG Canada team expansion to ensures strategic initiatives for packaging, electronics, and deposit return solutions.

Catherine McCausland is the Director, CCS Operations at RLG Systems Canada Inc. and is responsible for all contract administration for the Common Collection System under the Blue Box Regulation. Catherine has over 23 years of operational experience covering all facets of waste management including collections, transfer stations, and processing recyclables and organics. Catherine has successfully managed several high-profile, public facing waste issues throughout her career, and is using this experience to assist CCS service providers in a successful transition.
Click here to register.
---