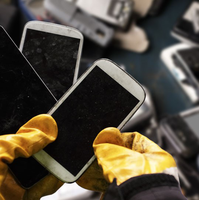 Several months ago, the government passed Ontario Regulation 522/20: Electrical and Electronic Equipment. The regulation was passed only months before it took effect, leaving no time to properly plan and included major amendments that were not consulted on. These changes cut recycling targets by between 15% - 25% per year; added exemptions and reductions that further undercut targets; reduced oversight requirements; and placed too much reliance on access to recycling collection sites rather than ensuring all materials are collected and recycled.
The recycling sector is asking the Ontario government to fix these major problems. Less electronic waste being recycled will lead to worse environmental outcomes than the previous recycling program and impact jobs and investment in Ontario. Instead of Ontario becoming a leader in e-waste recycling, the sector is struggling to survive. We know this was not the intention of the government and hope amendments will be considered as soon as possible.
Under Ontario's new Electronics and Electrical Equipment recycling regulation:
Ontario recyclers are processing almost 50% less material in the first quarter than they have in previous years.
Based on current producer obligations of the volume currently being processed, only 60% of materials have been paid for by Producers.
Based on current projections, Ontario recyclers are expected to process significantly less material than in previous years under the program run by Ontario Electronic Stewardship (OES) and receive compensation for well under half of the material they process.
We are concerned that if we are not able to fix the financial issues mentioned above, this will lead to the demise of Ontario's electronic waste recycling and processing capabilities. Not only will these conditions cause more electronic waste going to landfills, Ontario is also missing an economic opportunity to recover valuable materials and resources for markets here in our province, negatively impacting job creation and investment.
The OWMA believes that the following small revisions to O. Reg. 522/20 could help to address the current issues:
Focus the emphasis on recycling targets, not accessibility
Increase targets and remove exemption and reductions (e.g., warranty, repair, recycled content, and reuse multiplier)
Ensure annual performance audits
---