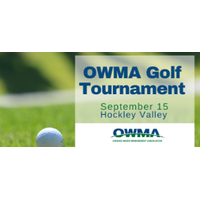 The OWMA's Annual Golf Tournament was held on Wednesday, September 15, 2021. After 18 long months of not being able to gather in person, we were excited to bring together 144 OWMA members and guests under very sunny, warm skies, at Hockley Valley Resort and Spa.
Our golfers hit the links on a picture-perfect day at the 18-hole course, and it was an exceptional opportunity for everyone attending to network, catch up and also enjoy a round of golf.
As always, the OWMA is grateful for the widespread support that members provide to its events and its vision. The continued success of the Association is due in large part to the involvement, investment, collaboration and commitment of the members of the OWMA. "On behalf of the OWMA and the Board of Directors, I would like to thank everyone who attended and supported our tournament," said Mike Chopowick, OWMA's CEO.
The OWMA would like to extend its gratitude to the many sponsors who once again helped make the Annual Golf Tournament an outstanding day.
Special Hole on the Course Sponsors – Amtruck, Joe Johnson Equipment and Waste Management Corporation of Canada
Luncheon – Mack Trucks Canada
Refreshment Cart – McNeilus/London Machinery Inc.
Dinner – Golder and Metro Compactor Service Inc.
Golf Towels – Truckz & Binzz
Golf Ball Sponsorship – KEITH Manufacturing Co.
Golf Pin Flags – Covanta Environmental Solutions and Triple M Metal
Individual hole sponsors – Big Truck Rental, Emterra Environmental, Enbridge Gas Inc., International Trucks, Joseph Haulage and RPM eco
The OWMA would also like to congratulate the following golfers who topped their competition on the golf course.
CLOSEST TO THE PIN – sponsored by Machinex Industries Inc. – Ron Wright
LONGEST DRIVE – sponsored by GFL Environmental Inc. – Mitchell Butler
CLOSEST TO THE PIN – sponsored by Tag International Inc. – Beth Goodger
STRAIGHTEST DRIVE – sponsored by Miller Waste Systems Inc. – Marsha Guy
LONGEST DRIVE – sponsored by Big Truck Rental – Gregg Iannuzz
FIRST PLACE TEAM – sponsored by Machinex Industries Inc. was won by Ken Fedosen, Brad Wells, Sean Gibson and Tyler Feaver
SECOND PLACE TEAM – sponsored by Triple M Metal, was won by Patti Bosco, Jesse Langlois, Troy Mellen, Kyle Monteith
THIRD PLACE TEAM – sponsored by Enbridge Gas Inc., was won by Bob Martin, Brad Masters, Rick Denyes and Phil Zigby
For the first time ever, - the MOST HONEST TEAM - sponsored by Safety-Kleen Canada Inc. and FUN FOURSOME BALL – sponsored by Triple M Metal was won by the same team - Steve Katwaroo, Charlie Weeks, Jim Halloran and Derek Jacobsen
Keep healthy everyone - we look forward to seeing everyone again this year at the upcoming CWRC taking place at the Blue Mountain Resort in Collingwood – November 7th to 9th, 2021.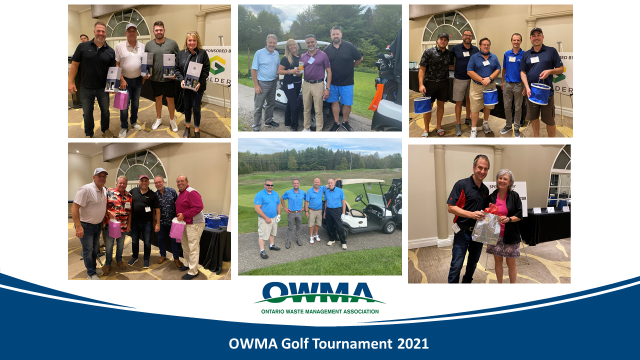 ---