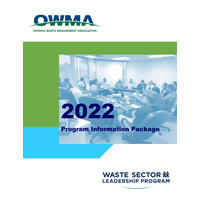 We are excited to announce the details for the 2022 Mentor/Leadership Program. In 2021, the OWMA continued the Waste Sector Mentor and Leadership Program that was launched in 2019 and just recently celebrated the "graduation" of the 2021 class. Over the past two programs, we have connected 28 waste sector experts with individuals enrolled in the program.
This program has continued to provide a high-level mentoring program for professionals in the waste and resource management sector that have an upward career trajectory within their organizations. The OWMA Waste Sector Mentor and Leadership Program is available to OWMA members looking to invest in and support the professional development and capabilities of their people.
Please review the attached program announcement and registration information – sign up before the deadline of June 30th, 2022.
We look forward to welcoming the new mentees to the program.
Click here to sign up.
---