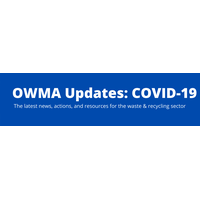 COVID-19 HEALTH CARE INFORMATION
Employers and staff in Ontario's waste sector should continue to monitor information provided by the Ontario Ministry of Health's Dedicated COVID-19 Website for updates on the status of viral cases in Ontario, how to protect yourself, what to do if you're sick, and how to recognize possible symptoms. The URL of the Ministry of Health COVID-19 website is: https://www.ontario.ca/page/2019-novel-coronavirus
PANDEMIC PREPAREDNESS FOR BUSINESS
The Canadian Chamber of commerce has provided a Pandemic Preparedness Guide for Business. Should COVID-19 escalate in Canada, some of the things businesses need to plan for include: Staff absences; Disruption to essential services like information, telecommunications, financial services, energy supply, and logistics; Disruption to supply of necessary materials or contractors; A major increase or decrease in demand for products and services. You can download a copy of the Guide here: http://www.chamber.ca/resources/pandemic-preparedness/BusinessPrepGuidePanPrep2020
The Workplace Safety & Prevention Services (WSPS) has prepared a Business Pandemic Preparedness Checklist to help businesses assess employees health, sick leave policies and protection against further spreading of viruses.
WASTE SECTOR ISSUES
Lock-Down of Services and Businesses - On Sunday, Ontario's Associate Minister of Economic Development stated that the Ontario government is "not currently considering a lockdown in response to COVID-19". Other countries have imposed variations of lock-downs of government services and non-essential businesses. At this time, there is no indication whether the government will consider that waste collection and disposal be deemed an essential business. At this time, OWMA doesn't expect any changes to the stringent protocols that already regulate the management of biomedical or health care waste.
New Workplace Legislation – The Ontario government is introducing legislation to provide job-protected leave to employees in isolation or quarantine due to COVID-19, or those who need to be away from work to care for children because of school or day care closures. Changes to the Employment Standards Act will also waive the requirement for medical notes if employees take leave. The measures would be retroactive to January 25, 2020. OWMA staff are in dialogue with the Ministry of Labour regarding how this legislation is implemented.
U.S.-Canada Land Border – At this time, there are no announced plans regarding potential shut down of the U.S. Land Border to people or goods. There is a significant amount of waste material that crosses the land border, including hazardous waste materials and one-third of Ontario's solid waste. Today, at 11:30am, the Premier stated that his preference is to keep the border open to "trade and commerce". Also today, the Prime Minister announced that Canada is barring entry to non-residents, except for citizens from the U.S.
OWMA OPERATIONS
From today until April 30th, all in-person OWMA events will be rescheduled (including the April 3rd Membership Meeting in Brockville).
The March 24th Webinar on the new Excess Soil Regulation WILL proceed as scheduled.

All Committee and Board meetings will be conducted via teleconference until April 30th.

The office will remain staffed on a rotating basis, to ensure continuous phone, mail, advocacy and other operations, with other staff remaining in service from remote work sites on an ongoing basis. Until April 1st office hours will be 9am to 3pm.
OWMA will reassess these operational policies on April 1st and again on April 15th.
If you are facing any waste management-related issues or challenges, please let me know and we will work with the Ministry of Environment and/or other agencies to resolve your concern. For further information, please contact me directly at: mchopowick@owma.org
---