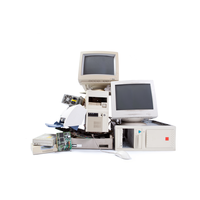 On December 10, 2020, RPRA issued a statement regarding a recent inspection undertaken by the Authority of Ontario Electronic Stewardship (OES) and Electronic Products Recycling Association (EPRA).
As service providers to the Electrical and Electronic Equipment (EEE) Waste Program, municipalities may have received communications from persons identifying themselves as OES or EPRA personnel advising that OES is being rebranded as EPRA Ontario and that it would continue to operate Ontario's electronics recycling program. The communications may have also advised municipalities to sign a new contract with EPRA Ontario to ensure continuity in service. These communications are incorrect, contravene the conflict-of-interest guidelines that are part of the OES Wind-Up Plan, are inconsistent with the Minister's Directions and non-compliant with the requirements of the Waste Diversion Transition Act (WDTA) and the Resource Recovery and Circular Economy Act (RRCEA).
As a result of RPRA's findings, OES has agreed to cease using the wind-up trust fund to support activities promoting EPRA's commercial interests and has taken additional steps to ensure compliance. Read more here.
---