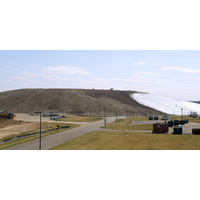 Each day in homes across the province, consumers work to do their part by rinsing and sorting and ensuring they are disposing of their waste in the proper way. For most Canadians, there is unlikely a lot of thought about what happens to their household waste after they drop it off at their curb or take it to the garbage chute. Each of us understands what we individually contribute to waste, but what may not be understood is our collective waste management situation, commercial waste collection and disposal, and the current limitations we are facing.
In 2019, 11,986,000 tonnes of Ontario's waste were disposed of in landfills. This includes waste materials that are not reused or recycled. To put this into context, in Ontario, we only have 144,476,000 tonnes in landfill capacity left. While to some, this might sound like a lot, the reality is that this capacity translates to an estimated 14.5 years of landfill capacity remaining in Ontario. By 2034, we will deplete our capacity unless something is done today.
As the largest waste management and resource recovery trade association in Canada, OWMA represents more than 240 organizations involved in the waste management sector. These members manage over 85% of Ontario's waste and recyclables and are at the core of the green economy in our province.
Monitoring the waste requirements and the current state of capacity is something OWMA and our members have been committed to because we recognize the importance of staying ahead of this issue and encouraging action to address the needs of tomorrow. OWMA members provide data through Re-TRAC Connect, an online data platform used by many governments and private organizations across North America. In 2021, OWMA released its latest State of Waste in Ontario: Landfill Report, which provides accurate and timely data on the capacity of Ontario's public and private sector landfills. This data is critical to helping guide policy decisions for the waste management sector, enabling those in the industry to make better business decisions and provides better information to inform and educate the broader public.
We are running out of capacity. What do we do?
The latest State of Waste Report showed that we are continuing to run out of landfill space. With only 14.5 years of landfill capacity remaining, we need to take action to avoid future issues. Landfill capacity is an issue that impacts us all, and it will require a collaborative approach to manage. We are all key partners and need to work together to address the province's landfill capacity shortage.
As a province, we need to modernize the landfill approvals process so that the Ministry of Environment, Conservation and Parks can ensure adequate waste capacity is available for the future. Moving forward, a greater proportion of waste material will need to be managed by larger landfills. There is currently a large reliance on export to the United States and potential regulations, events, or waste disposal taxes may require increased future reliance on disposal within Ontario. The provincial government should retain final approval authority for landfills, with a review process that meets high environmental standards while reducing unnecessary delays and costs for proponents and communities alike. Municipal engagement throughout the environmental assessment process should involve residents, businesses, and other community interests to build confidence and trust.
These are just some of the key actions necessary to ensure we prepare for our future landfill needs. But, most importantly, right now, we must keep the conversation going on where we are, what the future needs are, and what we need to do together to manage waste effectively and appropriately.
So, as you add waste to your trash bin, stop for a minute and think about where it is headed. If we understand the problem, then we can collectively put a plan in place that prepares us for tomorrow. We must keep the discussion going today, as 2034 is just right around the corner.
---