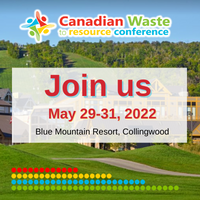 The upcoming Canadian Waste to Resource Conference (CWRC) is taking place on May 29-31, 2022, at the Blue Mountain Resort, Collingwood. Here's some of the top reasons that you won't want to miss this year's event!
5). We are back in person!
This is OWMA's first in-person, large-scale conference since the pandemic began and we know that the industry is looking forward to engaging and networking with professionals and organizations from across the industry.
4). There's no other national conference like CWRC
During CWRC, attendees will have the opportunity to examine the most relevant and essential topics facing the sector. It is your chance to connect with the "who's who" of the waste management sector. CWRC brings together waste management professionals representing business, industry, municipalities, and government. Meet with your industry colleagues and see for yourself why CWRC is recognized as 'the place to be' for the waste sector across the country.
3). Special members-only pricing
This year's conference is jammed pack with value. From keynote speakers, plenary sessions, and track sessions, you will have access to the latest information and insight about waste management issues and opportunities. And, OWMA members have access to special discounted members-only pricing! Plus, if you book by May 1st, you save even more.
2). Stunning venue
This year's CWRC is taking place in the breathtaking Blue Mountains in Collingwood. Attendees will stay at the Mosaic hotel, and the conference events will take place at the Village Conference Centre. Join us for CWRC and experience the stunning and picturesque views of Blue Mountains for yourself.
1). Outstanding lineup of speakers and topics
Our agenda will allow you to hear from a wide range of local, national, and international speakers. Don't miss this exciting and informative agenda, including the following sessions and tracks:
Thinking About What Comes Next

Jim Allworth, Investment Strategist, RBC Wealth Management

Transitioning the Municipal Blue Box System – Defining Decisions for Municipalities

Dave Gordon, Senior Advisor, AMO

Fundamental Shift or Nothing has Changed? - Perspectives on the Waste and Recycling Business Going Forward

Patrick Dovigi, President & CEO, Green For Life Environmental
Blair McArthur, Miller Waste Systems
Brian O'Connor, President, U-Pak Group of Companies
Tracy Black, Area Vice President for Canada, WM

How Are Municipalities Envisioning and Preparing for Future Waste Management Service Delivery?

Arnaud Budka, Director of Waste Management for the City of Montreal (invited)
Andrew Agbanti, Manager of Resource Recovery, City of Toronto
Heidi Scott, Manager Processing and Disposal, City of Ottawa
Paul Henderson, General Manager, Solid Waste Services, Metro Vancouver
Moderator – Michael Cant, GHD

Track Session 1: Organics & Composting
Track Session 2: Waste Processing Technologies
Track Session 3: Extended Producer Responsibility
Track Session 4: Optimizing Waste Management Approaches
Track Session 5: Plastics

Take a closer look at the upcoming CWRC agenda.
What are you waiting for? Space is limited! Register now to attend CWRC today!
---