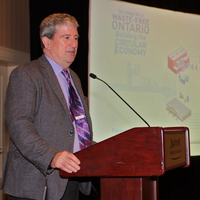 Ontario's move to a more circular economy is "an entrepreneurial exercise" that requires continued collaboration and new partnerships, Environment and Climate Change Minister Glen Murray said in his speech at the Resource Productivity and Recovery Authority's annual general meeting in Toronto on June 21.
Creating a circular economy will take "societal transformation," he said, which starts with a cultural shift similar to what occurred during the founding of the province's first recycling programs, such as the Blue Box.
"The success we had in getting here was because we all put aside our individual interests … and decided that we were going to build something together that government couldn't build on its own," he said.
To help develop partnerships between industry and government that can facilitate the transition to a more circular economy in Ontario, Murray encouraged attendees to connect with the Authority's board members and set up meetings to discuss shared priorities.
"Walk away with a sense of mission and get to know one member of the board, and figure out how you can support them," he said. "Start engaging with them as your representatives in this process."
To view the Minister's full speech, click here.
---