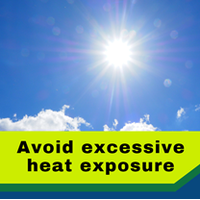 Many workers in the waste and recycling sector spend their working days exposed to the elements. Whether it is a snowy December day or a sunny and hot summer day in July, workers are on the front lines facing different conditions working to keep our communities clean and operating.
With summer upon us, one of the challenges that workers may face is excessive heat exposure. Employees can face dangerously high temperatures in the workplace, and excessive heat exposure may result in them developing heat-related illnesses. It is important for them to stay safe and reduce their exposure to working conditions that can contribute to heat-related illnesses.
To help organizations support its workers, OWMA developed the Heat Stress Guideline. This guideline, which is available free to OWMA members, describes regulatory requirements, industry practices, and preferred practices that help to minimize risk to worker health and safety.
By managing heat stress, organizations help to protect health, improve overall safety, and increase productivity. This guideline can help you recognize heat-stress illnesses; understand factors that contribute to heat-related illnesses; learn how to manage heat stress; and much more. OWMA members can download their copy of the Heat Stress Guideline by clicking here and logging in to the OWMA website.
If you aren't a member, contact us today by email at mgoulding@owma.org or by phone at 416-674-1542. We would be pleased to set up a meeting to review all of the benefits of membership and provide more details on the Heat Stress Guideline.
Download the OWMA Heat Stress Guideline
---