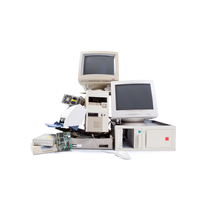 KC Recycling, a Pacific Northwest recycler of cathode-ray tube (CRT) glass from old televisions, lead-acid batteries, and electronic scrap, is adding capacity to manage all of Canada's scrap CRT glass.
In order to expand capacity, the company is adding an additional shift to the production schedule, creating new jobs in the Kootenay region of British Columbia. It is also investing significant capital in production equipment to increase daily throughput. The investments include an automated conveyance and storage system at the KC Recycling facility in Trail, British Columbia.
After the closure of the smelter in Belledune, New Brunswick, KC Recycling will be able to handle eastern Canada's CRT glass.
CRT glass recycling is critical because it recycles the lead content into new products and eliminates an environmental hazard that could arise from inadequate disposal of lead. KC Recycling has been a leader in this process for many years, processing most of the glass generated in western Canada and the Pacific Northwest.
Read the full press release here
---